Well these first couple are not properly Minneapolis, but they are from a suburb.
Big Black fans have heard of Jordan, Minnesota. Funny I thought I took more pictures of the place. It's a nice quaint little town.
ok. Here is the place
waken recommended I go to. Birchbark Books! Author Louise Erdrich is owner or part owner or something. She was not present.
Anna wanted a shot of the confessional inside. Here it is!
Hey look! It's the Minneapolis skyline, as seen from the bike path I took from the lakes.
Oho! Here is another recommended place. Tom Every aka Dr Evermore said when I go to Minne I should definitely check out the House of Balls.
Wow!
awww. it's a little mewer!
Some of the pictures are a little blurry, but you still get the idea. This place is full of *surreality*.
Ha! Another durned Cat!
"GODS BLESS THE WORLD"
It's called the House of Balls because originally it was all pieces sculpted from bowling balls.
well what do you know it's the "House Ball" from the House of Balls!
Sculptor Allen Christian himself was there! Apparently I got lucky since the House of Balls is open only intermittantly.
whoop! Back out on the street...
Allen had recommended me Cuzzy's Bar, a few blocks away. They have a whole mess of dollar bills there. They have a couple of pretty good beers on tap too.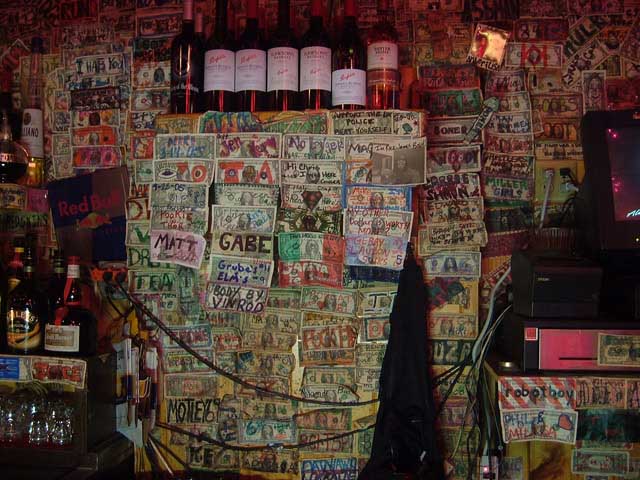 When I ordered nachos, I was not expecting THIS! But I did finish them.
I've seen a picture of this place somewhere before.
A bunch of people were playing volleyball. It seemed funny and surreal to my inebriated mind. So i took pictures! Here's one that's not too messy and blurry:
ahhhh the Mississippi River again! Barges actually come up this far.
the Mississippi at dawn.
Ready to go to the State Fair?
back
next
menu
bniblet.com